Our Work + Service Area
The development process can be complicated- B+A can help. Whether you're just beginning or halfway through a project, B+A can lend a hand at every step along the way. We are team players who embrace collaboration. We support each major milestone in the development process to ensure the final product is a cohesive and functional design.
Based in Austin, Texas, we work across Texas and beyond. Interested in learning more about how our talents and expertise can fit into your project? Let's talk.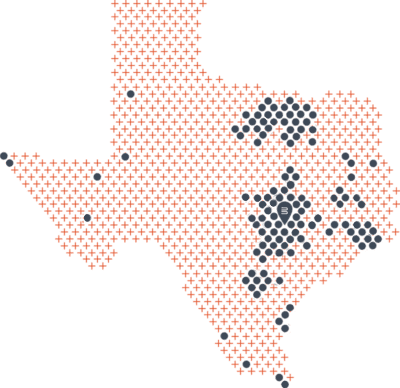 Mixed-Use
Our team is experienced in designing for mixed-use developments, from restaurant and apartments to retail and office. We create spaces that attract customers as well as appeal to long-term tenants.
Lamar Flats
Location: Austin, TX

Project Highlights: Multiple built-in seating areas with a pool, tanning ledge and courtyard featuring sculptural dividers that create unique spaces for casual and formal gatherings.
Multifamily
The B+A team excels at creating beautiful common spaces within multifamily developments. With graceful forms and coherent design themes, we implement relevant programming because we understand user needs. Our relation to clients and coordination with design partners enables the creation of unique spaces that cultivate a sense of community for residents. Our vast experience includes nearly every variety of multifamily: from high rises to senior living seniors, garden-style to student housing- we have done it all. Let us bring our expertise to your next multifamily project.
AURA 351
Location: Grande Praire, TX

Project Highlights: With high-end finishes and a luxury lazy river, AURA 351 is a relaxation haven. This rustic design alludes to a mountain spring with seating, synthetic turf berms, and conversational pools to enjoy the summer months alongside the refreshing pool.
Office
We specialize in creating spaces that maximize sustainability, quality and well-being for tenants. Our team is experienced in planning environments that balance the need for basic program elements while always being sensitive to budgets.
Rackspace Offices
Location: Austin, TX

Project Highlights: An interactive outdoor oasis chock-full of activity and sunning lawns, outdoor classrooms and a community dining area. A built-in movie screen and entertainment stage are an added amenity and provide opportunities for hosting and gathering.
Planned Communities
Planned communities are more than a collection of homes - together they form a community, woven together by their amenities and communal spaces. Our team focuses on creating, inspiring, and engaging spaces promoting interaction between family and friends.
Pioneer Crossing
Location: Austin, TX

Project Highlights: a unique lagoon-style pool and deck with water features for kids brings families together. A large park with a trail and playground area add to the outdoor activities for families and individuals.
Parks + Trails
Beautiful outdoor spaces that inspire people to connect with the outdoors are essential to landscape architecture. To that end, our team creates playscapes, parks, trails, and other recreational places for people to experience. We believe in the benefits of being in nature and welcome any opportunity to provide our clients with a connection to the environment around them.
Westhaven
Location: Georgetown, TX

Project Highlights: A resort-style pool and pool deck with tensile shade structures and a galvanized "silo" entry sign define the community character and provide a gathering place. Trails and an extensive playground allow kids of all ages to be active outdoors.
Retail
We understand that shoppers are not just looking for a product or service, and hotel guests are not just looking for a place to lay their head: they're looking for an experience. Our team of talented designers understand what it takes to create a memorable experience that encourages patrons to return in the future. Whether you're building for big box chains, a local business owner, a small motel, or a multi-acre resort, let us plan your next retail or hospitality project.